There are a whole range of products that are advertised as being child safety locks and ASL Locksmiths & Security Brighton can help you fit them around your home to keep your children (and often your valuables) safe.
We will start by looking at the options available for Window safety.. we will  add further details to this page shortly so do visit again!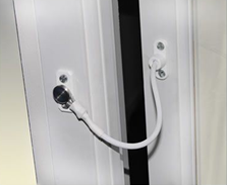 ASL in Woodingdean – Window safety
There are a range of specialist window locks that prevent or restrict children from opening  windows.
These include: Window cable restrictors – These restrictors are available for a range of windows including wood and PVC windows and Sash, fanlights. The restrictors come with different cable lengths allowing different 'openings'. Current Health and safety recommendations are that the window should open up to 100mm.
The restrictors can be fixed or can be opened with a key and look out for versions with Anti Tamper screws for added security . The restrictor shown below is from ironmongery direct.
ASL Locksmiths recently advised and then fitted window restrictors for a client in Woodingdean – they were delighted withe the results and posted a review about our work on Google – to see the review visit http://bit.ly/1V8A8Ac
Fixed locks: – Other styles of window locks/restrictors includes fixed locks that prevent the window opening and closing, preventing them trapping inquisitive fingers and thumbs. The picture below shows an example shown on the ROSPA website
Inward opening window locks: – There are also a range of inward opening window locks that prevent windows that open inwards opening beyond 100mm.
Sliding window child locks: – For sliding windows or patio doors you can fit window locks that will allow the window to open to around 10cm, a space that even the most adventurous child will be prevented from climbing through. These locks do not require drilling and are easy to install but we do recommend that you regularly adjust and check to ensure it is fitted properly.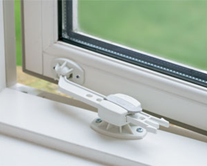 ASL Locksmith and Security Brighton can help you recommend and install child safety features. Our team are all trained and qualified locksmiths but are also the parents of young children so understand the importance of creating a safe environment.
If you would like to talk to us about child safety locks contact Jon on 07878 558 458
ASL Locksmith & Security Solution can fix your home with child safety locks in the following areas – Don't know if your area is covered? Call us on 01273 240453
We look forward to hearing from you.