At ASL locksmiths we recommend fitting good quality locks and security devises whenever possible.
We use Yale, Chubb and Banham products as we believe these are all good quality, secure and good value for money.
All Yale products come with a guarantee and Yale provide a free 10 year 'Security Guarantee'. See their website for more details – www.yale.co.uk/en/yale/couk/support/10-year-security-guarantee/
We see this guarantee as 'peace of mind' and ASL Locksmith will always ensure that fittings are carried out 'in accordance to Yale's installation instructions' meaning you can apply for the guarantee on completion of the job.
Yale offers a comprehensive range of locks, smart locks, cylinders, PVCu Door and window furniture.

Banham is an established family business that has been operating in the UK since 1926 and the present chairman  is the founders grandson. They have always positioned themselves as being 'at the forefront of burglary prevention.
Door locks provided by Banham are expertly crafted, high quality and are instantly recognisable – often meaning that burglars are deterred from even trying to enter your property.
If you are looking for an ultra secure lock for your home or office speak to ASL locksmith about Banham locks and fitting.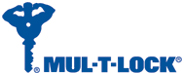 Mul-t-lock (formerly known as Chubb locks who no longer provides lock in England, Wales or Scotland) . Mul-T-Lock  has a reputation for innovation and has developed features such as the flex Control (Temporary Lock Out) cylinder which means that you can control when a key holder has access to your premesis. For more information about the FleX Control cylinder see –http://www.imperialproducts.do/pdf/cilindros-PDF/Cilindro-Mortise-FleX%20Control-Mul-t-lock.pdf
ASL fits products patented and manufactured by Mul-T-Locks on commercial and domestic properties as they are good quality. Guarantees differ depending on products fitted.
ASL Locksmiths source our products from a range of reputable trade only commercial suppliers, some of our suppliers ASL Locksmiths work with:
Duffells: https://www.duffells.com/
Aldridges: https://www.duffells.com/
ASL Locksmiths Woodingdean, your family friendly trusted locksmith.